A Walk in Their Shoes
April 18, 2015 – Small Business Growth Alliance (SBGA) Exceeds Company's Largest Attendance and Donations Raised for Make-A-Wish® Walk for Wishes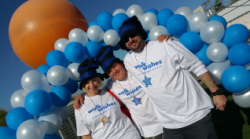 The Small Business Growth Alliance (SBGA) has always been closely partnered with the Make-A-Wish Foundation® Orange County Inland Empire chapter, recently working with them to grant their 60th wish. While 65% of the company's workforce donates to grant children's wishes, there are many who wish to do more. This year, volunteers created Team SBGA, a contributing force to the local Walk for Wishes.
"This was the first year that we promoted the Walk for Wishes," Jolie Hales, head of the Volunteer Leadership Committee, commented. "It was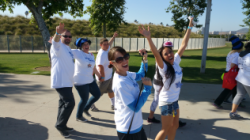 amazing to see individuals jump at the opportunity to support such a great cause. It was made very clear that our team members connect to the many personal Make-A-Wish® stories we help to create, and we are more than happy to support their enthusiasm!"
SBGA volunteers quickly spread the word about the upcoming Walk for Wishes. On the day of the event, 44 SBGA volunteers joined 77 teams of families, friends, and businesses dedicated to making a difference in the lives of children with life-threatening illnesses. As the volunteers prepared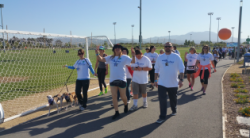 themselves for the walk, leaders of the event explained the different wishes a child could have: to have, to see, to be, and to meet; "seeing all the stars being held up really gave purpose to the reason we were all there," one SBGA volunteer commented. "I remembered Freddie, a wish kid that we sponsored at our holiday party who came and talked to us about his day. It helped put things into perspective that no matter how tough it gets for us in our daily lives, there are kids just trying to make it to the next day. It really hit home what we were doing and why we were doing it." While the walk was only half a mile long, every step was made with the purpose and the goal of giving Make-A-Wish® kids a day to remember.
"Make-A-Wish® is an organization dedicated to doing nothing but good in the community and in the lives of children with life-threatening illnesses," Nathan Jurczyk, Vice President of SBGA, said. "It is an honor to help further their selfless efforts, and with the granting of our 60th wish, the relationship between SBGA and the Make-A-Wish Foundation® is stronger than ever."
The Make-A-Wish® Walk for Wishes concluded with a festival filled with food and music in celebration of the efforts made toward the granting of more wishes. The Walk generated over $150,000 to sponsor the wishes of children, $1,820 of which was raised by SBGA volunteers. SBGA looks forward to participating in next year's walk with the goal of sponsoring a wish at the event.