A Day in the Shade
October 30, 2015 – Small Business Growth Alliance (SBGA) Volunteers Head to the Gardens to Nurture Trees and Foliage at the ShadeTree Partnership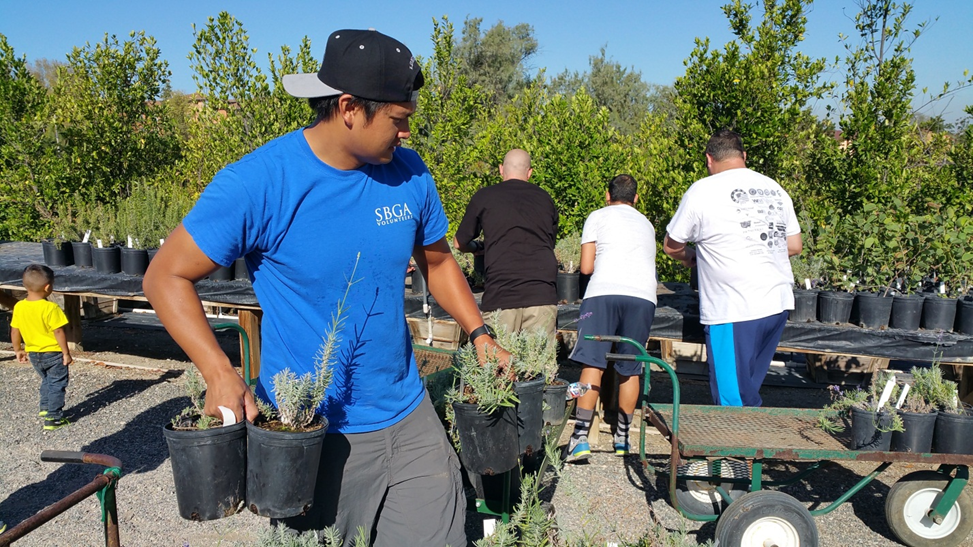 As the days get warmer, oceans get browner, and skies get foggier, it gets harder and harder to deny that we're having an adverse impact on the Earth we share. Science continues to prove that if we don't change the way that we treat the Earth, there soon won't be much of Earth left. While national and worldwide organizations work to decrease carbon levels, communities are coming together to help out on a smaller scale: cleaning parks, recycling plastics, and using alternative energy sources.

One of the biggest contributors in helping Mother Nature, however, is nature – just a single tree has the ability to absorb as much carbon in a year as a car produces driving 26,000 miles! In an effort to help out environment, Small Business Growth Alliance (SBGA) volunteers swapped out their sandals for sneakers and headed out to the gardens for a day of volunteer work at the ShadeTree Partnership, a volunteer-based organization that grows and nurtures trees and groundcover for placement on public lands.

"We've done a lot to give back to individual projects that directly affect families and children, all of which I am very proud of," explained Nathan Jurczyk, Vice President of SBGA, "but it's also important to step back and remember to lend time to the one thing we all must share – Earth."

When SBGA volunteers arrived at the ShadeTree Partnership Nursery, it was clear that there was a lot of work to be done in prepping the plants for autumn. Volunteers were quickly split into groups and sent into action, moving seedlings to growing houses and grown plants from greenhouses out to the nursery grounds. It wasn't all work and no play, however – the mid-September sunshine, fresh air, plentiful food, and general camaraderie ensured that everyone had a good time. By the end of the day, SBGA volunteers moved hundreds of different types of plants around the nursery, aiding in their journey to placement on public lands and restoring the environment.

"It's so rewarding to work alongside people who care about taking care of our planet and are willing to lend a hand to keep it green," Jolie Hales, head of the SBGA Volunteer Leadership Committee shared. "Even kids barely old enough to talk were moving potted plants and pushing carts – it was a really great sight to see."

"We have some of the greatest volunteers here at SBGA," Bob Parisi, Senior Vice President of SBGA commented with pride. "Whether we're helping children or planting trees, we always get such an enthusiastic response from our group."

As 2015 comes to a close, SBGA volunteers are ramping up for their biggest project of the year. Every holiday season, the SBGA Volunteer Leadership Council makes a point to donate their efforts to an organization that provides seasonal presents to children in need. This year, they are looking to work again with the Court Appointed Special Advocates (CASA) for Children, an organization they donated over 300 gifts to last year.