Do You Want to Build a Playground?
May 4, 2015 – Small Business Growth Alliance (SBGA) Volunteers Spend Day with KaBOOM! Building Playground for Local Children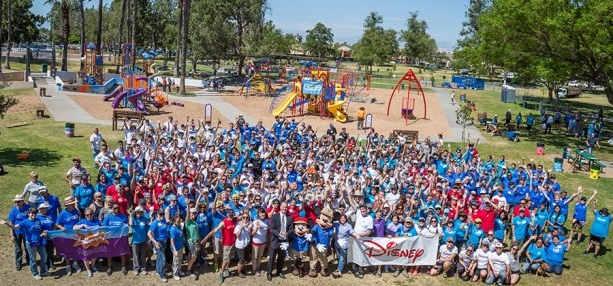 In an era of ever-growing technology, many children are choosing to sit and stare at screens instead of going outside and playing. Some children have even less opportunity to play outside when playgrounds are scarce, unkempt, and oftentimes, unsafe. KaBOOM! has worked to increase "playability" by building, improving, and opening thousands of playgrounds across the nation to provide opportunities for play to all children. On May 2nd, the Small Business Growth Alliance (SBGA) volunteers partnered with KaBOOM! to build KaBOOM's! largest playground site to date.

The build took place at the largest, most heavily used park in the city of Anaheim servicing hundreds of local families. While the park itself was large and full of green space, the area for play was too small to fit the needs of all the children in the area. "Families and kids deserve to have a safe place to fall in love with play again," Javier Gonzalez, Healthy Communities Director of the local YMCA, announced to the group of over 300 volunteers before the build began.

SBGA Volunteers were divided into teams with other volunteers to help prepare the area for play. While some teams were given tools and instructions to help build the physical playground, others mixed cement, painted murals on the walls, planted over 100 trees, and rebuilt the park's disc golf course. In addition, everyone helped spread three basketball courts worth of mulch around the area. After six hours of hard work, sweat, and dance breaks, all of the volunteers gathered together to watch the ribbon cutting ceremony for the new play area.

"I built two slides, painted a wall, and shoveled mulch while dancing to YMCA," One SBGA volunteer commented enthusiastically. "Is there a better way to spend a Saturday?"

"It was such an amazing event to be a part of – one of my favorites," another SBGA volunteer shared. "Now when I drive by that park, I can think 'hey, I built that slide those kids are playing on.' That's a really nice feeling."

Before each KaBOOM! build, local children of the area are asked to draw out their most ideal playground. These drawings are used as the blueprints and inspiration for the park to be built. At the end of this particular build, the playground included a large swing set, a zip line, six slides, two large play structures, and dozens of other pieces that only kids could dream up.

"I took pride in seeing our bright blue SBGA shirts scattered amongst the amazing volunteers from other companies and the community," Jolie Hales, project lead for SBGA's Volunteer Leadership Committee, shared. "Our volunteers completely embraced the event. They were shoveling on mulch hills, mixing cement, painting murals, and putting together playground equipment – pretty much everywhere I looked, I saw a coworker giving back to the community."

"Our group of volunteers is extremely passionate about helping children in our community receive opportunities for a better life," Nathan Jurczyk, Vice President of SBGA, said. "Helping with the KaBOOM! build was a way for us to give back to hundreds of children who need to get out and play. We were thrilled to be able to help out at this event and build a playground for the community to enjoy!"

Saturday's KaBOOM! playground build was the biggest build in history, involving 26 corporate volunteer committees and dozens of local citizens. SBGA volunteers made up one of the largest volunteer groups to attend the event.