Giving for Foster Kids
April 17, 2015 – Jon Meeker Honored at Spirit of Volunteerism Awards for Work with Small Business Growth Alliance (SBGA) Holiday Giving Program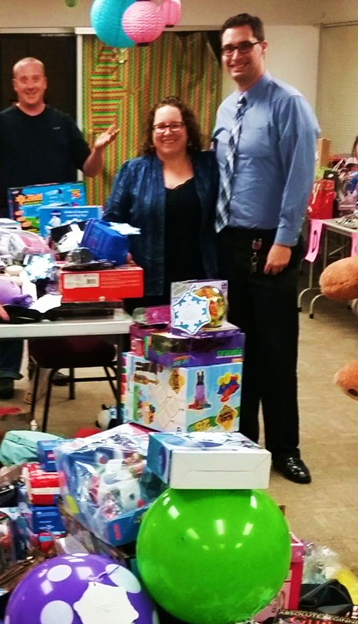 The Small Business Growth Alliance (SBGA) is proud to announce Jon Meeker as an honoree at the Spirit of Volunteerism Awards this April. Jon joined SBGA's training team in late 2013, quickly excelling at his duties and immersing himself in the spirit of the company, eventually being promoted to Manager. He has often been described as contagiously energetic – a perfect trait for a passionate member of the SBGA Volunteer Leadership Committee.
Throughout his time on the SBGA Volunteer Leadership Committee, Jon has been a valuable asset in helping to build excitement for upcoming events and encouraging people to participate. As the year came to a close and SBGA's annual holiday giving program came to the scene, Jon stepped out of the role of volunteer and into the role of leader with a project idea for Court Appointed Special Advocates (CASA) for Children.
"According to CASA, every day in this country, 1,900 children become victims of abuse or neglect," Jon explained. "As a former foster child myself, I realize the power that one passionate person can have in the life of a child. The opportunity to show a foster child that someone truly does care for them was one that myself and the entire company jumped at."
As the project lead for SBGA's Holiday Giving program, Jon teamed up with CASA to work out logistics and bring paper snowflakes to SBGA volunteers. Each snowflake contained a child's name and a gift that they wanted for the holiday season. Coordinating his fellow SBGA Volunteer Leadership Committee members, Jon found a home for more than 220 snowflakes with children's wishes on them for two weeks.  When it came time to collect the snowflakes and associated gifts, Jon personally went through each gift to ensure that it contained exactly what the child had asked for. Going above and beyond, Jon spent an additional 20 hours of his own time to locate difficult-to-find and last-minute items, just to guarantee that each child's wish was granted.
"Jon is a powerhouse of positive energy," Nathan Jurczyk, Vice President of SBGA and Co-Chair of this year's Spirit of Volunteerism Awards, commented. "The coordination of our holiday giving program is one of the toughest, but he did an incredible job. I'm proud to have Jon on our team with his incredible dedication to volunteerism, and to have him as a nominee at the Spirit of Volunteerism Awards."
When asked about volunteering, Jon simply quoted Margaret Mead, "never doubt that a small group of thoughtful, committed citizens can change the world. Indeed, it is the only thing that ever has."
Under Jon's leadership, SBGA was able to donate 300 gifts to the abused and neglected children served by CASA, making the SBGA team the largest holiday gift donor to CASA in 2014. Jon was honored on April 14th at the Spirit of Volunteerism Awards as an Outstanding Community Volunteer.