GOOOOOOAL!
December 19, 2014 – Small Business Growth Alliance (SBGA) and Make-A-Wish Partnership Helps Young Man Visits FC Barcelona Player Lionel Messi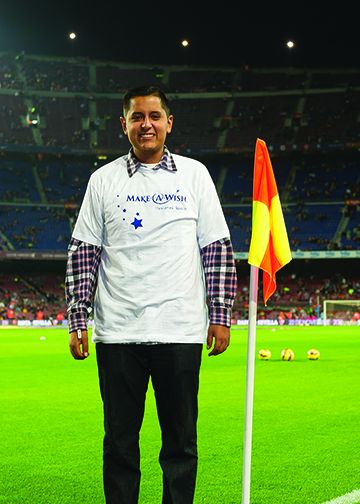 Being diagnosed with a life-threatening illness can put an indefinite time-out on a young adult's life. One minute their days are spent going to school, finishing homework, and hanging out with friends; the next they're filled with doctor visits, medication schedules, and treatment days. Alfredo was an all-star soccer player at his high school when he was suddenly diagnosed with a life-threatening illness that put his game on hold, but it doesn't mean that he's out of the game forever. Supported by the Make-A-Wish Foundation®, reminders of strength, love, and support carry brave fighters like Alfredo until they're back in the competition.
 Born into a family of soccer fanatics, Alfredo grew up with a deep love for the sport. During matches, he always roots for FC Barcelona and his favorite player, Lionel Messi. "We both have similar experiences of hard times," Alfredo explained, referring to the player's growth hormone deficiency. When it came time for Alfredo to make his most heartfelt wish, Alfredo asked for the one thing any soccer fan would love: to meet his favorite player in his home town of Barcelona, Spain!
 After a long flight, Alfredo and his family made their way to the Ciudad Deportiva Joan Gamper where the FC Barcelona soccer team practices and Alfredo had the opportunity to talk with Lionel Messi. The next few days of his wish vacation were filled with trips to the FC Barcelona Stadium and Museum, finishing out with tickets to a Barcelona match where Alfredo got to watch his favorite player up close.
 "We got to go on the field and hear everyone in the crowd cheer for the Make-A-Wish kids. Some of the little kids were reaching down to pull grass off the field to take home, so I grabbed some too," Alfredo admitted sheepishly to a room full of employees at the Small Business Growth Alliance (SBGA) holiday party. "The experience was amazing. Thank you."
 Alfredo's wish trip brought him and his family memories that they will always hold close to their hearts. And as Alfredo left the stage of SBGA's holiday party to a standing ovation, it was clearly obvious that his story touched the hearts of everyone in the room as well.
 "When you think of the kids from the Make-A-Wish Foundation®, it's easy to get trapped in the idea that these children and young adults are missing out on life, but that couldn't be further from the truth," Vice President of SBGA Nathan Jurczyk explained. "I have never met more individuals full of excitement and hope despite their situation. Talking to kids like Alfredo makes you want to be a better person. We're proud as a corporation to partner with organizations like the Make-A-Wish Foundation® that bring joy to these young people."
 Alfredo's wish marks the 59th wish granted through the partnership with the Make-a-Wish Foundation®.