SBGA Holiday Giving Program
December 27, 2016 – Small Business Growth Alliance (SBGA) Has Partnered with the Court Appointed Special Advocates (CASA) for Children Once Again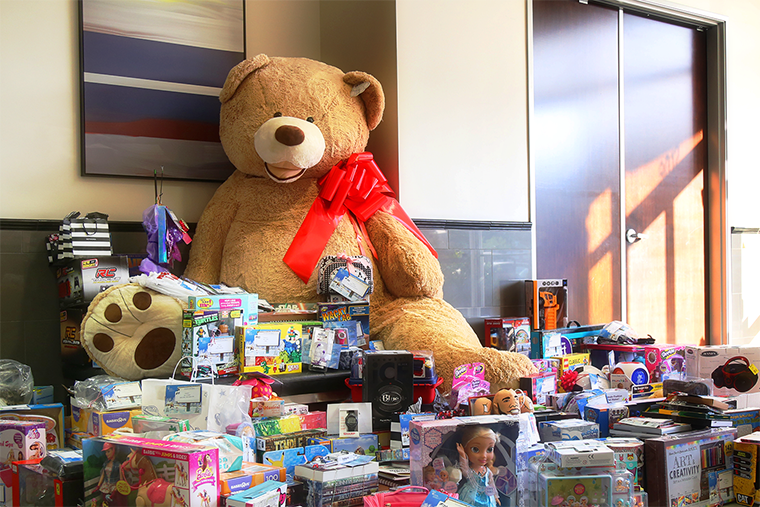 Every year, SBGA partners with the Court Appointed Special Advocates (CASA) to help the lives of children who are going through a rough time by adopting their gift wishes. This is the third year SBGA has worked with CASA. Just in time for December, team members of SBGA joined together to collect and deliver hundreds of presents to the boys and girls in the CASA for Children program.
CASA is a non-profit organization that helps abused and neglected children by providing a safe and permanent home. The organization also recruits, trains, and supports CASA volunteers. Appointed by judges, these CASA volunteers watch over the children until they are placed in a loving, permanent home. For many children, these CASA volunteers remain the most important person throughout their lives.
"This is the third year we have worked with CASA for Children, and Team SBGA has once again put a great effort into the holiday giving program," shared Bob Parisi, Senior Vice President of SBGA. "To fulfill the holiday gift wishes of children in the CASA program, Team SBGA worked together in an effort to deliver hundreds of presents to those deserving children."
To participate in the holiday giving program, team members of SBGA adopted postcards with a child's information and holiday gift wish. Many of the members adopted multiple postcards to ensure every child's gift wish was granted. Over the holiday season, new gifts were turned in to the SBGA Volunteer Leadership Council members as they worked to provide a brighter holiday season for the children of CASA.
"Giving back to the community is a huge part of SBGA's corporate identity. Organized by the SBGA Volunteer Leadership Committee, the holiday giving program is just one of many charitable events supported by SBGA," explained Bob Parisi. "Every year, Team SBGA takes on new challenges and puts great effort into making a difference. In 2017, Team SBGA looks forward to making an even greater impact in the lives of children through many other upcoming charitable events."