I Wish to Ride a Train
March 28, 2016 – Small Business Growth Alliance (SBGA) and Make-A-Wish Partnership Grants a Boy's Wish to Travel by Train to Los Angeles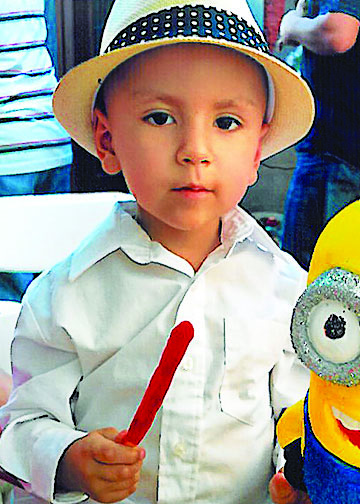 Justin is a 4-year-old boy living with neuroblastoma. He likes to spend his time playing with toy trains and loves watching his favorite television show about a train named Thomas. Justin loves to watch the trains go by on the railroad tracks, always wondering where they're going.
At such a young age, his fascination for trains had made him eager to one day be able to ride on one himself. When approached by Make-A-Wish volunteers, it was no surprise that his most heartfelt wish was to travel by train to a city such as Los Angeles.
"What is so great about the Make-A-Wish Foundation® is that they provide children with a chance to experience things they might otherwise not be able to," said Vice President Nathan Jurczyk. "By partnering with the Make-A-Wish Foundation®, SBGA has the opportunity to create adventures and memories for children and their families. These experiences are something they can look forward to and enjoy together as a family."
On the day of his wish, Justin eagerly hopped on the train with his family and enjoyed his ride all the way to Los Angeles. His most memorable part of the day was being able to look out the window and see everything go by, for he was excited that this time he was on the train himself! Justin's mother says they are grateful for the opportunity and experience, and that Justin has been looking forward to going on another trip by train once again.
The Make-A-Wish Foundation® not only fulfilled Justin's long awaited wish, but provided him with an opportunity to create wonderful memories with his family while on the train ride to Los Angeles. These precious memories are something Justin and his family will hold onto forever.
"The Make-A-Wish Foundation® brings memorable experiences for kids with life-threatening medical conditions by providing them with an opportunity to have their wishes come true. We are proud as a corporation to partner with organizations like the Make-A-Wish Foundation®," said Bob Parisi, Senior Vice President of SBGA. "We love helping to provide experiences that bring a bit of hope and joy to these kids and their families."
Justin could not have had a more memorable experience, and he was so glad that he was able to share it all with his family. His wish marks the 64th wish granted through the partnership between the Make-a-Wish Foundation® and the Small Business Growth Alliance (SBGA).