Let It Snow
September 26, 2013 – Small Business Growth Alliance (SBGA) Shares the Power of a Wish with a Young Boy Who Wants to See Snow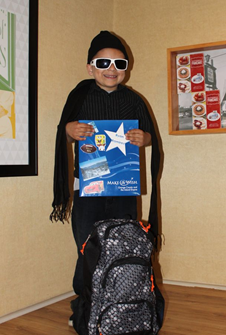 While SBGA has granted over fifty wishes to help children with life-threatening medical conditions live out their dreams, sometimes it's the simplest wishes that stand out and mean the most. For its 52nd wish, SBGA presented one little boy a simple, but fun-filled wish: to see snow.
Ryan is a five-year-old boy who loves pancakes with honey, the color blue, and playing with his toy cars. Living with a life-threatening disease doesn't stop Ryan from playing and being as active as any five-year-old child, and activity is just what he was looking for in his special wish. Ryan knew from his favorite television characters that playing in the snow was possibly the most fun activity ever, so when it came time for him to choose his wish he knew exactly what he wanted: to see snow.
A snow trip to Big Bear in the Southern Californian mountains was promptly put together for Ryan and his family. When they arrived, they packed their things away in the presidential suite of the Bear Creek Resort and Spa, and quickly headed out for snow activities. During his stay, Ryan visited the Big Bear snow park, went bowling, visited the zoo, played at an arcade, took over a candy store, received a tour by horse drawn carriage and – of course – spent countless hours playing in the snow.
The family built incredible memories staying in the snow together. As for Ryan, visiting the snow was everything that this brave five-year-old boy had hoped and dreamed.
By partnering with the Make-A-Wish Foundation®, SBGA has the opportunity to bring memorable experiences to children and their families. "Thanks to the Make-A-Wish Foundation®, children with life-threatening medical conditions can experience things they might not normally have a chance to due to their illness or financial challenges," said Vice President Nathan Jurczyk. "Make-A-Wish® makes it possible for the whole family to be involved. It's something they can look forward to and enjoy together as a family."