More Than a Point-of-Sale
January 8, 2018 – Small Business Growth Alliance (SBGA) Helps Merchants Stay on the Cutting Edge of Business Technologies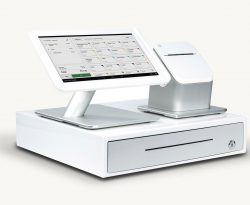 Technology is always evolving, and the business world is constantly evolving to keep up with it and this couldn't be more true than with point-of-sale (POS) systems. In today's world, it is no longer acceptable for a POS to simply process credit card transactions. It must be able to do much more if it is to prove its worth to the owner. No system meets that requirement better than the featured "point-of-sale" of the Small Business Growth Alliance (SBGA), the Clover Station. With its App Market paired with its robust customizability, it can fill the needs of any business, allowing you to run your business from one spot.
When it comes to design alone, it stands apart from the crowd. Its body is made of brushed aluminum with white glass accents. A large and bright 11.6" touchscreen on a pivot arm allows for an easy transition from merchant to customer during transactions. The hardware boasts an encrypted swiper on its side that has been designed for maximum reliability. 4 USB ports and one power source reduce wire clutter, while also allowing businesses to add other equipment they need whenever necessary.
An embedded high-resolution camera allows you to scan barcodes and QR codes. You can even create barcodes yourself for inventory management and faster check outs. The Clover Station also has optimal connectivity with its Ethernet or wireless connections.
The Clover Station does not only look good on the outside, but an impressive operating system. SBGA provides its merchants with an app store filled with hundreds of apps customized for business needs. This means that new apps are always being released, giving businesses numerous ways to customize their business.
"There are unlimited possibilities for a merchant wanting to grow their small business," says Nathan Jurczyk, Vice President of SBGA. "Ways to streamline processes that you had only dreamed of before. These applications will not only help you save money but function in a manner designed to help grow revenue."
With Clover's Cloud-Based Platform, you can customize it from anywhere, updating your changes in real-time. This gives you total control of how your business is run whenever and wherever inspiration strikes.
"If one of our customers wants to make a change as soon as they wake up, they can do it through their smartphone," commented Nathan Jurczyk when asked about the Clover Station's cloud connectivity. "Or, if they come up with a better way to run their business after-hours at home, they can implement it immediately from their tablet or computer. It's truly putting real-time power at a business owner's fingertips!"