The Most Wishes
December 9, 2013 – Small Business Growth Alliance (SBGA) Is Honored as the Largest Private Single-Wish Grantor in Orange County and the Inland Empire
From its annual toy drives for local children during the holidays to the seasonal beach cleanups, SBGA is a company well-known for its community involvement. Its most impressive act of charitable giving, however, can be seen decorating the walls of the business office in Irvine, California.
Numerous plaques of happy children experiencing their dreams are hung throughout the entire office building, the original "Make-A-Wish Wall" no longer able to contain them all. These children and their stories are a daily part of working at SBGA, and something that the company's employees and business consultants hold dear. Since 2007, the company, with its alliance partners, has granted exactly 55 wishes bringing smiles to children with life-threatening medical conditions.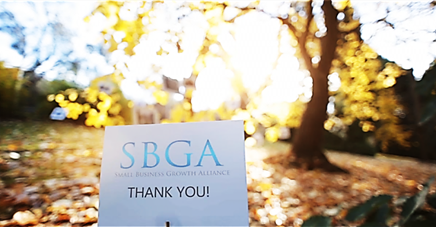 "Few organizations can have the personal impact on a child like the Make-A-Wish Foundation® can," Vice President Nathan Jurczyk commented. "Being able to help create these positive moments through our company involvement is beyond words."

SBGA has granted seven wishes this year alone. At the company's annual holiday party, Make-A-Wish Ambassador, John Ott, presented Senior Vice President of SBGA, Bob Parisi, with the plaques for three more granted wishes, as well as the title of the Largest Private Single-Wish Grantor for the Orange County and Inland Empire Make-A-Wish Chapter.

"What our company does is incredible," Mr. Parisi said. "But it's the people in our company that truly make this possible. Our employees and alliance partners truly believe in giving back – the proof is right here."

SBGA closes 2013 on a positive note as it prepares for another year of new members, business growth, and of course, a healthy dose of community involvement.