Pack for a Purpose
February 17, 2018 – Small Business Growth Alliance (SBGA) Volunteers at Orange County Food Bank to Assemble Food Packages for Citizens in Need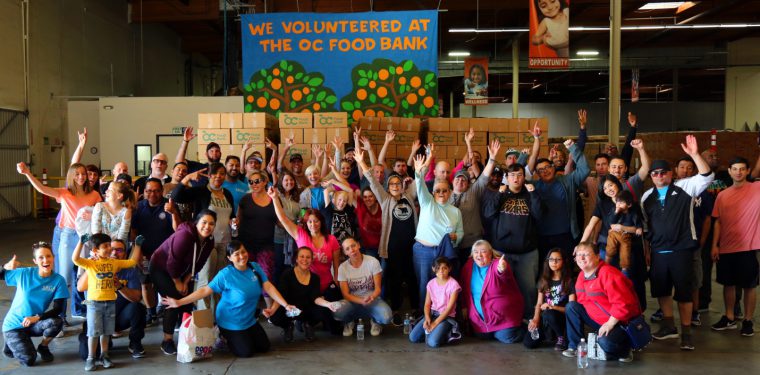 On Saturday, February 17, approximately 65 members of Team SBGA volunteered at the Orange County Food Bank to pack 1,800 boxes full of essential food items for low income families across the greater Orange County Area.
"It's become an annual tradition," said Jolie Hales, chair of the SBGA Volunteer Leadership Council.  "Everyone really looks forward to rolling up their sleeves and working together for such a great cause."
Over the last few years, SBGA has packed more than 10-thousand boxes of food.
"We think about every box representing a family,"  said Hales.  "It's not just that we packed a couple thousand boxes — It's that we helped a couple thousand families, and that really helps us feel the magnitude of our impact."
Among the SBGA volunteers were family and friends who came along to help at the Orange County Food Bank. Each group of volunteers was given an important role and specific instructions on how to assemble food packages. As a friendly competition, volunteers were recruited onto two teams – the "Orange Team" and "Pink Team," and then competed to see which could pack the most boxes to give back to the community.
"We get pretty competitive," said Mike Kimball, captain of the Orange Team, "but that desire to be the winning team really stems from our sincere desire to help others."
In the end, everyone felt like a winner for dedicating their time and effort packing boxes to help the families in need in Orange County.
"It's always inspiring to see our volunteers deliver such great results," shared Vice President of SBGA Nathan Jurczyk. "This is a group of people with a deep commitment to giving back and helping those in need, and I'm really proud of the effort they invest in the community."
At the end of every volunteer annual food bank event, both the company leaders and volunteers always look forward to returning the following year with a greater force and that same strong desire to give back in any way that they can.