Pack for a Purpose
April 4, 2016 – Small Business Growth Alliance (SBGA) Volunteers at Orange County Food Bank to Assemble Food Packages for Citizens in Need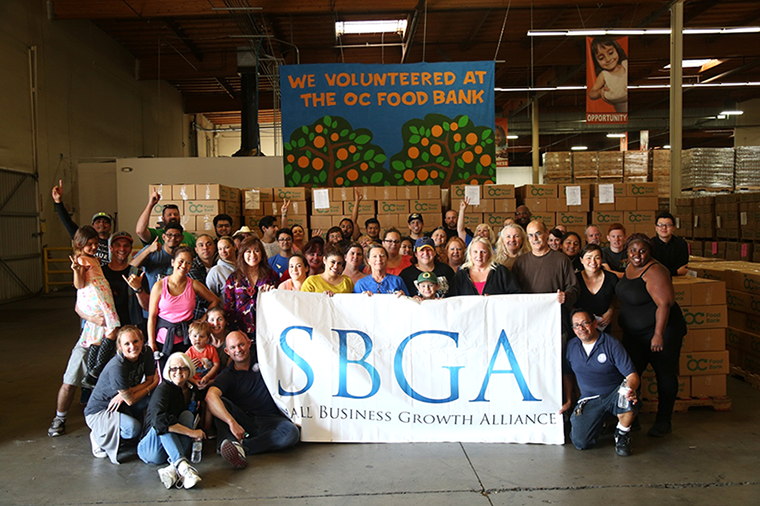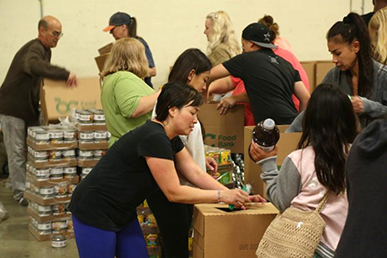 This Saturday, approximately a hundred Small Business Growth Alliance (SBGA) team members volunteered at the Orange County Food Bank to pack boxes full of essential food items for low income families across the greater Orange County Area. This was not the first time that SBGA has donated their time to the Orange County Food Bank. In the two previous events, SBGA volunteers packed over 2,500 boxes full of food.
Among the SBGA volunteers, there were family and friends that came along to help at the Orange County Food Bank. Each group of volunteers was given an important role and specific instructions on how to assemble food packages. As a friendly competition, the group divided themselves into two teams – "Blue Team" and "Purple Team." Throughout the morning, the two teams competed to see which could pack the most boxes to give back to the community. In the end, everyone was a winner for dedicating their time and effort packing boxes to help the families in need in Orange County.
 "Allowing our vo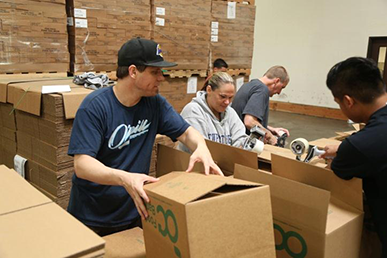 lunteers to split into two teams to compete with each other always helps bring energy to the event, but we all know what really matters is how many boxes were packed to provide for those in need," said Jolie Hales, head of the SBGA Volunteer Leadership Committee.
In the end, SBGA volunteers, along with their family and friends, managed to pack 4,480 boxes full of food items. This amount was 1,980 more than last year. While the event was built around a competition, the real winners were families seeking assistance across Orange County.
"It's always inspiring to see our team deliver such great results at volunteer events and give their best to help others," shared Vice President of SBGA Nathan Jurczyk. "This is a group with a deep commitment to giving back and helping those in need, and I am really proud to be associated with such a stellar team."
"The Orange County Food Bank event is one of the team's favorite events," shared Jolie Hales.
At the end of every volunteer event, both the Company leaders and volunteers always look forward to returning the following year with a greater force.