Play Ball!
April 20, 2015 – Young Man Sees 2014 World Series with Help from Make-A-Wish Foundation® and Small Business Growth Alliance (SBGA)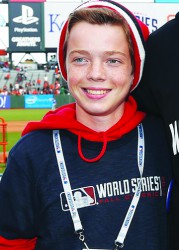 For the lovers of America's favorite pastime, there is nothing more enthralling than the speed of the ball and the crack of the bat; the cheers of the crowd and the sting of a "strike." Across the nation, hundreds of thousands of boys and girls engage in their favorite sport from ball parks, televisions, and radios, all waiting to hear the next step, the next up to bat, the next call from the umpire. In our own backyard, fourteen year old Cole does the same while handling the trials of a life-threatening illness. With help from the Make-A-Wish Foundation® and the Small Business Growth Alliance (SBGA), Cole was able to take his love for baseball to the next level by asking for his most heartfelt wish: to attend the 2014 World Series.
"The passion these kids have for their most heartfelt wish is moving," said Nathan Jurczyk, Vice President of SBGA. "These are some of the most inspiring individuals, and I'm proud that we have a team willing and able to help them to fulfill their dreams."
Cole has always loved baseball – at the age of five he began throwing the ball around with his dad and he hasn't stopped since. And being diagnosed with a life-threatening illness has done nothing to lessen his passion for the game, something that the wish-granters at the Make-A-Wish Foundation® Orange County Inland Empire quickly discovered; "[Cole] had no issues with coming right up to us, introducing himself, and filling us in on everything baseball," Sarah Pizzaruso shared during her presentation to the wish-granting company.
The day before his wish, Cole and his family spent their time sight-seeing and exploring the city of San Francisco. On the day of his wish, Cole was taken to AT&T Park where he got the chance to go down on the field and meet some of the players. When it was time for the Giants to play the Kansas City Royals for the World Series, Cole was at the edge of his seat for every inning as he watched the two great teams compete for the title of World Series Champion.
Cole's trip to the World Series is a memory that he will never forget, and one that he is extremely grateful to have. Cole's wish marks the 60th wish granted through the partnership between the Make-A-Wish Foundation® and the Small Business Growth Alliance (SBGA).