Preparing to Pack for a Purpose
February 7, 2018 – Small Business Growth Alliance (SBGA) Prepares to Volunteer at Orange County Food Bank to Pack Food for Citizens in Need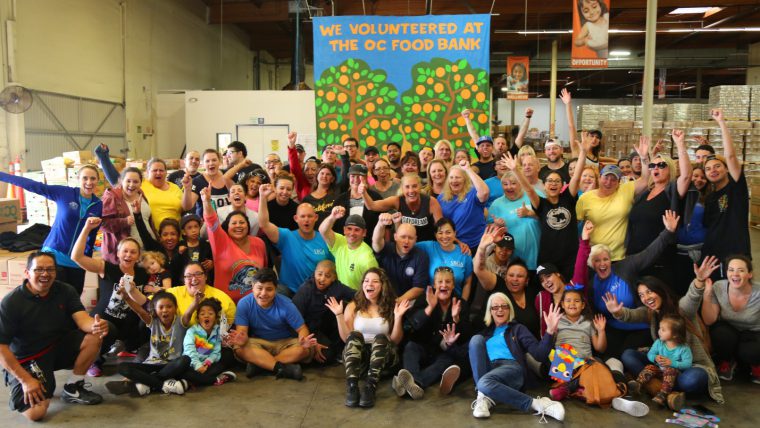 In just a few days, approximately 100 volunteers from SBGA will join forces to pack 2-thousand boxes of food for low income families across Orange County.
"We really believe in giving back," said Jolie Hales, chairperson of the SBGA Volunteer Leadership Council.  "When you're blessed, you have a responsibility to bless the lives of others, and that's the mindset we have at SBGA.  It really makes you proud to work among such amazing people when you see everyone around you sweating on a Saturday morning for the same worthy cause."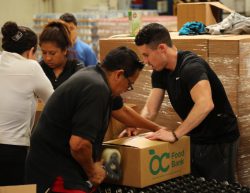 "We like to make it fun," said Vice President and Chief Operating Officer, Nathan Jurczyk.  "We set up two teams weeks before the event and compete to see which team can recruit the most volunteers and pack the most boxes.  People really get into it, and the result is a lot of people showing up and a lot of good being done."Volunteering at the Orange County Food Bank is an annual event for employees at SBGA, and between one-third and one-half of all the employees who work there show up to roll up their sleeves and help the community.  "We're very proud of the percentage of people who come to help," said Hales.  "Other companies are lucky to have 10 percent of their workforce come to a volunteer event, so we feel very fortunate."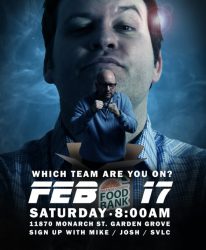 This year, SBGA will bring the "Orange Team," led by Operations Manager and defending champion Mike Kimball, and the "Pink Team," led by Operations Manager and new title challenger Josh Davidson.  As each team recruits someone, that employee receives a flag of their team's color to display at their desk.
"It gets pretty competitive," said Kimball.  "But it's a great way to rally for the cause, as you see orange and pink flags start to show up all over the building."
"In the end, everyone wins," said Davidson.  "People get essential food they need, and we feel like we made a difference."On the day of the event, SBGA volunteers from both teams will be given an important role and specific task on their team's assembly line – taping boxes or packing food like rice, canned goods, or juice – and the race is on for two hours.