Puppy Pals
March, 17, 2014 – Small Business Growth Alliance (SBGA) Works with Make-A-Wish Foundation® to Bring Girl New Best Friend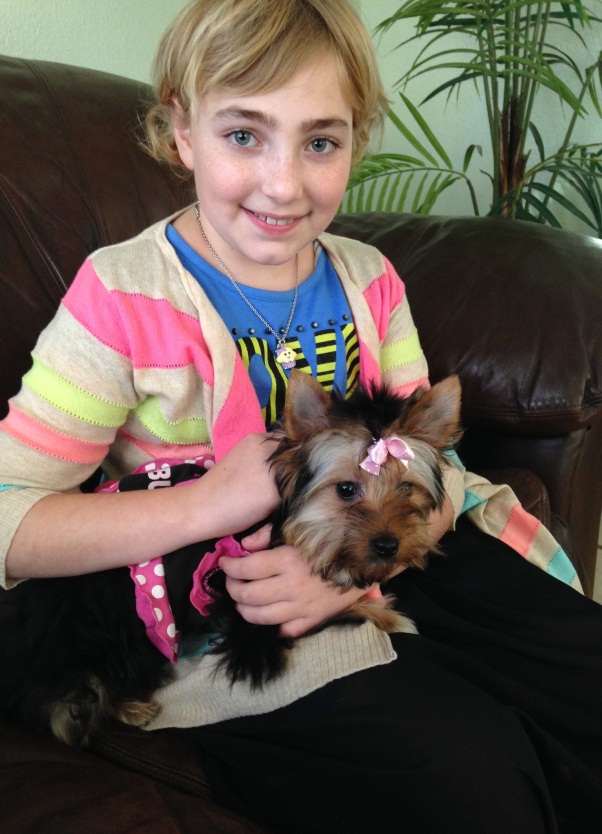 Children dealing with life-threatening illnesses often struggle to be understood. For most of these children, they just want a friend who simply understands without having to explain anything. Friends come in all shapes and sizes, and SBGA's most recent wish-kid chose one who's small, sweet, furry, and loves to give sloppy kisses.
Brianna is a young girl dealing with a life-threatening illness who loves watching baseball games, listening to upbeat pop music, and animals – especially dogs. When it came to choosing her most heartfelt wish, Brianna didn't hesitate one second before choosing her new best friend, a Yorkie puppy.
"This dog was so underwhelmed by the attention it was receiving from everyone," Make-A-Wish Foundation® Orange County and Inland Empire's Sarah Pizzaruso shared about Brianna's wish day. "But when Brianna came into the room and saw her new puppy, they just clicked. The dog immediately went over to and cuddled into Brianna's lap for a nap."
The new puppy, christened Popcorn, also came with a new outfit, treats, toys, and a gift card to a local pet store for all of her future needs.
"To see the joy the Make-A-Wish Foundation® brings to children's lives is so inspiring," one SGBA business consultant explained. "You hear a story like this and you know that this little girl is going to be very happy for a very long time."
Thanks to the combined efforts of SBGA and the Make-a-Wish Foundation®, Brianna now has someone who truly "gets it." Brianna's wish marks the 56th wish granted by SBGA.