Mobile Invoicing – Getting Merchants Paid Faster
February 20th, 2017 – Small Business Growth Alliance (SBGA) Helps Merchants Get Paid Faster with Mobile Invoicing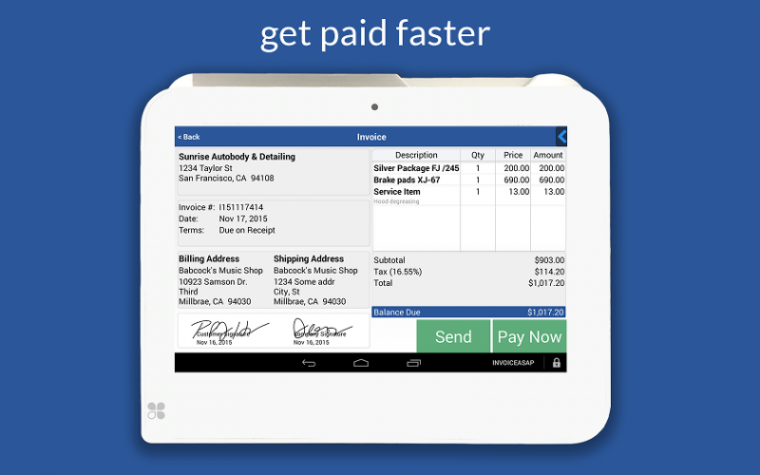 Thanks to ever-changing technology, business owners now have the freedom to conduct business wherever they are. Processes that were laborious and time consuming even a few years ago, such as invoicing, can be done safely and remotely, simply by using a smartphone or tablet. Any business owner knows the pain of creating, printing and mailing an invoice, then hoping that the vendor will receive and pay the invoice quickly.
Business-to-business solutions, such as the Small Business Growth Alliance point of sale systems, have taken the convenience of electronic invoicing one step further by bundling it neatly into a user friendly mobile app.
Using SBGAs invoicing app to send and receive invoices and payments saves the cost of printing and mailing. An electric invoicing solution is far more economical, for example, running an in- person transaction can yield thousands in savings when compared to the cost of keying in transactions. Recent data also suggests that electronic payments save between 50% and 80% of costs associated with traditional paper checks.
SBGAs invoicing app also frees up exponential time for the merchant. No longer do you need to be physically at your computer in order to send, receive, and check the status of your invoices or payments. Mobile invoicing gives you the freedom to do business wherever you are.
Another impressive feature of the app is the ability to sync all your invoices, estimates, customers and items with QuickBooks for PC, QuickBooks Online or Xero. Whether you're sending or receiving payment, the data is ready to sync with your accounting software, saving you and your customer's valuable time.
The unique features of SBGA's app creates an added layer of transparency, for example, merchants can send a picture of the services provided along with a voice message with each invoice.
"These features not only allow the merchant to get paid faster, but also adds another level of personalized customer service" explained Nathan Jurczyk, Vice President of SBGA. "Also The ability to capture a payment and signature right after the service is rendered will dramatically cut down on the number of customer disputes a business could receive".
Information can be sent from the app to the software or from the software to the app, allowing you to share the information over a secure network with your vendors. This increases transparency, allows you to keep track of payment information, and eliminates paper and manual data entry errors. You and your vendors can also check on the payment status in real time.
As technology evolves businesses are able to operate on the go. SBGAs mobile invoicing app empowers them to bring business with them anywhere, streamlining processes and leaving the headache of paper invoicing in the past. This newfound freedom will allow them to focus on other tasks, such as growing their business, taking on more work, or spending time with their customers.