Supporting Our Veterans
May 25, 2016 – Small Business Growth Alliance (SBGA) Volunteers Support the Members of the Military, Veterans, and Supporters at the Anaheim Semper 5K/10K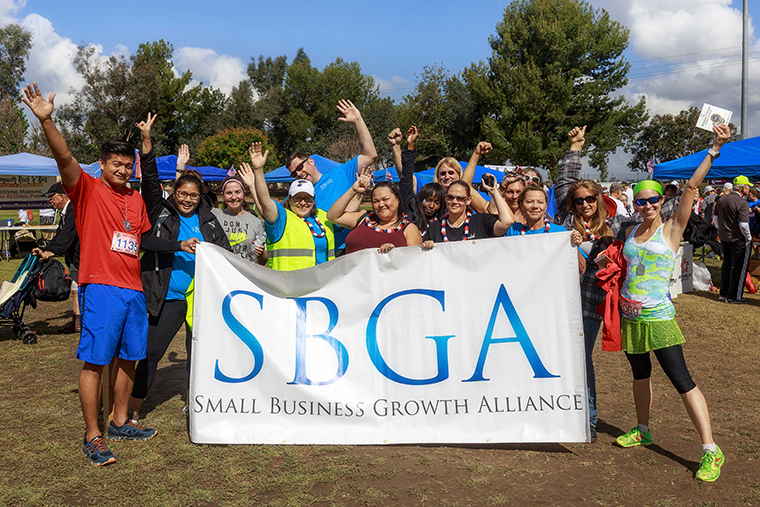 On May 21st, Team SBGA volunteered at the Anaheim Semper 5K/10K to support the Marines and Sailors of the 13th Marine Expeditionary Unit (MEU). This year's event was the third annual event sponsored by the Anaheim 13th MEU, and it was hosted at Riverdale Park located in the heart of Anaheim Hills. Some of the members of Team SBGA participated in the run while others passed out medals and water to the members of the military, veterans, and supporters.
"The Anaheim Semper 5K/10K event provided an excellent opportunity for our volunteers to give back to the members of the military who have made sacrifices to secure our freedom," commented Nathan Jurczyk, Vice President of SBGA. "In return for their service, Team SBGA took their day off to work together toward a common goal of supporting the veterans and their families."
Team SBGA was divided into groups and stationed at different booths located throughout the course to provide participants with water during their run. At the finish line, medals and t-shirts were passed out to all participants, and special awards were given out to the top three overall male and female finishers in the race. In conjunction with the run, a food festival was hosted by the Anaheim 13th MEU Adoption Committee. Adjacent to the finish-line, the festival provided free food to all participants of the event.
"It was awesome seeing the people I work with get up before sunrise for the sole purpose of helping those who have given everything to us and our country," said Jolie Hales, head of the SBGA Volunteer Leadership Committee. "I saw my coworkers set up booths, help with parking, pass out water and do everything else where help was needed. We even had some people volunteer, run the race and then continue to volunteer afterwards."
With Team SBGA's help, the Anaheim Semper 5K/10K event came to a successful conclusion. Hundreds of enthusiastic participants joined the effort to raise money for the 13th MEU. All event proceeds will be going towards providing financial assistance to the members of the military and their families.