SBGA Holiday Party
December 6, 2013 – Small Business Growth Alliance (SBGA) Celebrates Employees and Honors Top Performers of 2013
SBGA's holiday party is an event that sparks excitement and delight in employees year round. Whether it's the start of spring or the middle of summer, tales are told companywide about the incredible party at the end of the year where the entire SBGA team and its alliance partners is celebrated, commemorated, and awarded for a year's worth of hard work.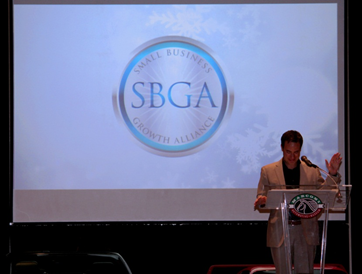 This year's celebration was held at the Marconi Auto Museum, a non-profit organization that not only represented the company's outlook on charitable giving, but also its "drive" for success. Team members from all walks of SBGA mingled in the expansive event space making acquaintances, telling stories, and catching up with old friends during the luncheon event.
"It's the best time of the year," one Call Center Associate said excitedly. "We all talk regularly on the phone, but it's nice to be able to put a face to the voices we've been hearing all year!"
After an enjoyable lunch, SBGA announced three additional wishes granted through its charitable giving program with the Make-A-Wish Foundation®. Make-A-Wish Ambassador John Ott also made a special appearance, awarding the company with three new Make-A-Wish plaques and the title of "Largest Private Single-Wish Grantor in the Orange County and Inland Empire." To date, SBGA has granted 55 wishes to children with life-threatening medical conditions.
"Out of all of the community involvement programs that we participate in, the Make-A-Wish Foundation® is our top benefactor," Vice President Nathan Jurczyk noted. "Helping children through granting wishes and working with the Foundation brings us together and really defines who we are as a company."
Following the Make-A-Wish presentation came the most anticipated part of the event, the award ceremony. Senior Vice President Bob Parisi and Vice President Nathan Jurczyk honored the company's top performers of 2013 with awards and praise from peers. Individuals from the Call Center, the National Sales Team, and the Corporate Support Team were applauded for their accomplishments in productivity, performance, and leadership, among others. A special award was also given to one team leader who has earned recognition for a decade of service.
"When people are happy somewhere, they stick around," the award-winner stated simply. "I'm happy here."
After an afternoon of celebration, the luncheon ended with a raffle and an early day from the office. Employees went home with smiles on their faces and no qualms about returning next week to the company that truly appreciates their dedication.