Tax Time, Simplified
January 8, 2014 – Small Business Growth Alliance (SBGA) Provides Tax Relief with Payroll Services Program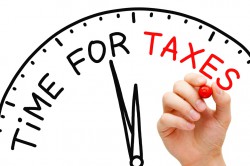 It's that time again.
While most individuals only have to worry about filing taxes once a year, business owners have to think about it at least ten times a year: two returns per quarter and two more at the end of the year for every state in which their employees are working. Being a business owner is challenging enough without ensuring that payroll taxes are going to the right government agencies with the right numbers at the right time – luckily, SBGA is here to help you effectively navigate the world of payroll.
SBGA's Payroll Services program is already making an impact, helping its members save both time and money. This program helps members to track employee hours, automatically adjust employee benefits and withholdings, and pay employees all from one online system, and all for one flat monthly fee.
SBGA's online payroll system automatically calculates, pays, and files payroll tax returns for every tax season – quarterly and annually. It also automatically produces W-2 and 1099 documents for employees at the end of each year. Guaranteed accuracy and on time payments for payroll taxes come standard with SBGA's Payroll Service program, as well as with free direct deposit for all of your employees!
In fact, SBGA's Payroll Service guarantees that members will never pay a payroll-related fine or fee so long as they provide accurate data.
Once again, SBGA is turning big business tasks into simple business solutions.