Smart Card Liability
May 5, 2015 – Small Business Growth Alliance (SBGA) Prepares Clients for Upcoming Smart Card Liability Shift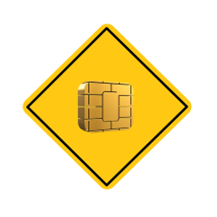 As many business owners are aware, all face-to-face card processing systems must be upgraded to accept EMV smart chip cards this year; businesses that do not upgrade their systems will carry full liability for any fraudulent card used in the business. The absolute deadline for this transition to EMV smart chip card acceptance draws nearer with each day, bringing with it more details as to how businesses will be impacted by the liability shift. The Small Business Growth Alliance (SBGA) is leading the efforts of electronic payment providers to ensure that their clients are educated on the liability risks associated with not upgrading to EMV smart chip technology.
"We want to make sure that the clients we do business with are prepared for this dynamic shift in the payment industry," Nathan Jurczyk, Vice President of SBGA, explained. "We have worked hard with our alliance partners to ensure that our offerings are EMV compliant, and our clients are unaffected by these additional liabilities."
SBGA's electronic payments partner is one of the few credit card processing companies certified by EMVco to distribute EMV smart chip card capable systems. All of their 2015 system offerings are EMV smart chip card capable including the advanced business management solution, which can also accept mobile payments such as Apple Pay™. For businesses that do not have access to these new technologies, however, the potential for liability in the event of a fraudulent transaction can be devastating.
"By educating our clients and continually giving them options to make their business processes more secure, we're offering more than just new gadgets – we're offering peace of mind," Mr. Jurczyk shared. "All of our programs are built to reduce the liability of businesses, from our Payroll Services program guarantees, to our $100,000 in data breach protection. EMV smart chip card education is just another way we help clients decrease their risk exposure and grow their businesses."
Since the adoption of EMV technology around the world, fraudulent card transactions have increased by 47% in countries without smart chip standards such as the U.S., increasing the potential for fraud loss. With all of the opportunities to affect the liability of a business, it's important to work with a company that can consult with a business to determine the best course of action for the transition to EMV smart chip technology. SBGA has helped thousands of businesses nationwide upgrade their systems to EMV smart chip standards, saving members hundreds of thousands in potential fraud losses.